Stormwater runoff and flooding are natural events that, over the millennia, have helped shape the world around us. Our activities on the landscape routinely alter these natural drainage patterns by intensifying and redirecting runoff, potentially leading to stream pollution, property damage and, in extreme cases, loss of life.
Localized flash flooding, stream bank scour and destabilization, siltation, loss of ground water recharge, declining dry-weather stream flows and habitat destruction are all the results of unmanaged or poorly managed stormwater. In addition to its physical impact on the environment, stormwater may carry a variety of pollutants into out waters including metals, bacteria, oil and grease, pesticides, nutrients, and sediment. PADEP's stream assessment efforts have documented that urban runoff is the third leading source of stream impairment in Pennsylvania. Moving forward, these historic problems can be avoided or minimized through a combination of forethought and planning, and properly constructed and maintained best management practices (BMPs) and stormwater control measures (SCMs). By managing stormwater runoff as a valuable and reusable resource rather than as a waste that must be quickly moved away, a host of opportunities are opened that promote environmental protection and enhancement while complementing new growth and development.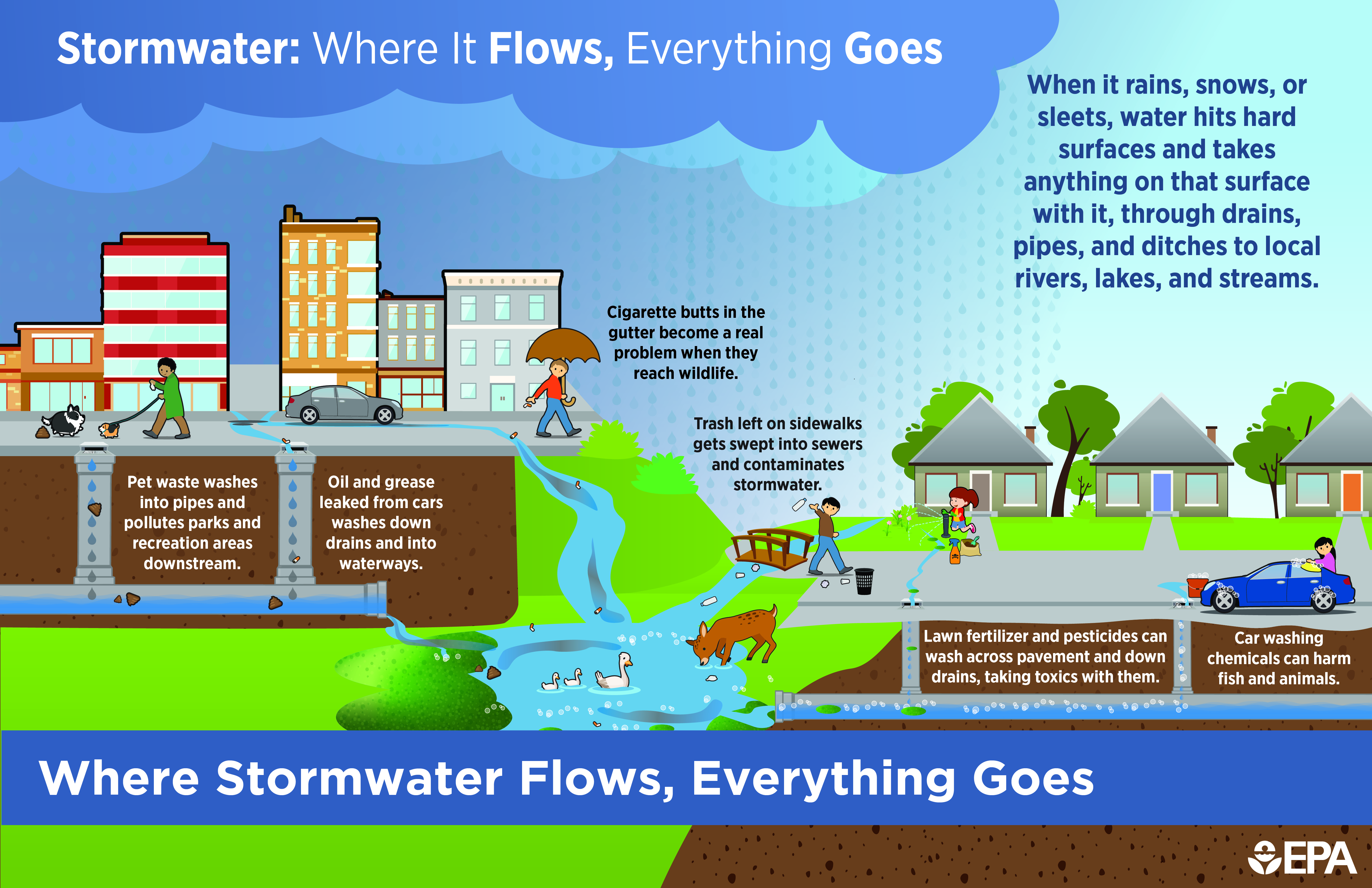 Looking for Information on the Stormwater Management Program Fee?
The Township implemented the stormwater fee due to increasing environmental regulations and other stormwater needs established in our Municipal Separate Storm Sewer System (MS4) Program under the PA DEP Clean Water Act, and Joint Pollution Reduction Plan (PRP). The Township established a revenue source to meet ever increasing requirements and demands of the program. Click here for information regarding Susquehanna Township's MS4 Program. 
Have you seen something you believe would be a stormwater concern? Submit a complaint through Susquehanna Connects!
Click here to learn more on the Stormwater Management Program Fee!
Click here to learn more about Reducing Your Stormwater Fee!
Do you want to see the Impervious Area you have been assessed? Check out our interactive Impervious Area Map! Type in your address to see your property.